Cancer Treatment by Chinese Medicine
On July 1, 2017, our hospital established the "TCM Scientific Research Base For Difficult Health Problem ALS" for international patients. In the meantime, we established the "TCM Scientific Research Base For Cancer" for Chinese patients since there are about 3.5 millions new cases of cancers in current China every year. Our treatment experiences has told us that many cancers (or tumors) can be cured or improved if they are treated in a timely manner by Chinese medicine.
If you are able to fly to China to our hospital for TCM treatment in a timely manner, we will do the best to help you.
TCM Treatment For Cervical Cancer
On September 21, 2008, Ms. Yuan Chunbi, a doctor from a village clinic of TianZhu County, Gui Zhou Province, felt discomfort over her body and irregular bleeding from her vagina. She took a car to the out-patient department of Heping Hospital of Qingyuan City, Guangdong Province for treatment. After examination, her condition was diagnosed as cervical erosion. After some days' treatment, her condition was alleviated. Then, she brought some medicine back home to help her health. Because she was a doctor, she made some medicine herself. But, after taking them for some days, her condition sometimes improved and sometimes got worse.
On October 14, 2009, Ms. Yuan suffered sudden massive bleeding of womb, and she was urgently sent to People's Hospital of TianZhu County, Gui Zhou Province for emergency treatment. After examination of pathological biopsy and other tests in the hospital, her condition was diagnosed as myoma of uterus or cervical cancer.
She went to the Provincial People's Hospital in Guizhou Province for a definite diagnosis. After consultations with several experts of the hospital and examination reports of CT,pathological biopsy, her condition was diagnosed as cervical squamous cell carcinoma, and she could not under surgery. So, she under went one session each of radiotherapy and chemotherapy, and some other treatment in the hospital. However, her condition was not well controlled. She went to other domestic hospitals for treatment. High cost treatments made her family very poor. Her relatives could not afford such expenses. In such condition, Ms. Yuan, lying on the bed at that moment, cried every day. She tried to commit suicide to free herself and her family. Her mother and other relatives were preparing funeral arrangements at home for her, and they were ready to quit the treatment. However, as a country doctor, she was not reconciled to leave the world, because she still was very young.
On December 31, 2009, she heard from a friend that many International patients with chronic and difficult diseases from other countries came to Zhongfang Red Cross International Hospital for TCM treatment. There they received traditional Chinese medicine to treat chronic and difficult diseases with low treatment cost and good treatment effects. Therefore, she quit western medicine treatment, and accompanied by her family, she came to our hospital for treatment.
On that day, our TCM doctor Xiang Changqing met them. After a detailed check-up, pulse-taking sand observation, Doctor Xiang told her that her condition was bad and would treat her with TCM for some days to observe the progress. There was some hope for her. If she believed in us, then we could try. Ms. Yuan held the last glimmer of hope and agreed to take treatment in our hospital. After almost half a year of TCM treatment and care from Dr. Xiang and other doctors, Ms. Yuan's health improved day by day.
On June 14, 2011, Ms. Yuan came to the No. 1 People's Hospital of Huaihua City for examination of TBS, and the report showed that all the cancer cells in her body had disappeared. The side-effects of hair loss problem after radiotherapy and chemotherapy were also solved. She was so thankful that Zhongfang Red Cross International Hospital had given her a second life.
The first photo was taken before taking our treatment, the latter two photos were taken after cervical cancer has been cured.
These two photos were taken when Ms. Yuan returned to visit our hospital in May.video on youtube or on youku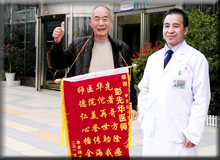 Miraculous Curative Effect For Lung Cancer By TCM Treatment. video on youtube or on youku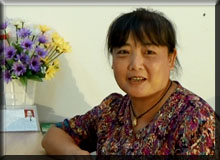 Pure TCM Treatment for Ms. Pan's Bladder Tumor. video on youtube or on youku
Tumor over Throat Cured Totally by TCM.video on youtube or on youku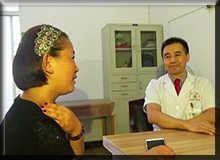 Patient With Skin Disease Talked About The Healing Process By TCM. video on youtube or on youku