Introduction About Zhongfang Pure Chinese Medicine Hospital
In the middle of March, we came to the countryside to enjoy the scenery with our overseas friends.  

In the second half of February, we came to Huaihua South High Speed Train Station to meet friends from the Middle East.  

On 30th January 2019, a seminar and dinner banquet on TCM and introducing Zhongfang Red Cross International Hospital as the leading hospital in TCM Treatment was held in Alwelaya DIWAN Salwa city, Kuwait. The attendance was more than 60 gentlemen.  


The students group from Canadian College of Naturopathic Medicine came to our hospital for one month's TCM Internship.  
On 4th October, Kuwaiti friends came to our hospital for rehabilitation. In the first weeks of Oct., some of our international friends went to Zhijiang.  
Graduation Ceremony and farewell dinner for the French student Group.  
Some of our international friends went to Phoenix City on the last weekend of July, they are from South Africa, France, Kuwait, Saudi Arabia, Qatar, Greece, Austria, Pakistan, Algeria, Nepal and etc.  

In early July, some of our international friends went to Zhijiang to enjoy the night scene.  
In early May, some of our international friends went to Wuxi Reservoir.  
In early April, some of our international friends visited ZiYuan villa.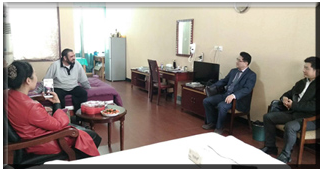 In the middle of March, Mr. Zhu Min, the president of GUIDING JOURNAL OF TCM, came to our hospital to interview our international friend Mortada and our president Zhu Ming.
Interview with Mortada and interview with president Zhu Ming

In early March, some of our international friends went outside to feel the breath of spring. 
In early February, some of our international friends had dinner at the Spring Bay.  

In middle December, some of our international friends enjoyed the winter sunshine in Zhijiang.
In early November, some of our international friends went to Zhongpo Forest Park.
In early October, some of our international friends went to He Mingzhou Square to enjoy the beauty of the autumn.
Some Pictures of Our City Huaihua.
In the current world, there are two big systems in the medical field: Western Medicine and Traditional Chinese Medicine (TCM). For acute conditions and emergency aid, western medicine is very helpful. However for chronic and difficult conditions, since western medicine is based upon chemical medications and single medication strategy, that it is always not so much helpful to these diseases; in the meantime, quite a lot side effects are brought about to the patients. So most modern people who suffer from chronic conditions do not appreciate this kind of unfriendly and life-time treatment method. TCM is based upon the natural plants and it always emphasizes the multiple, comprehensive and flexible treatment strategy, so TCM is very much safe without side effects; it always tends to treat the root of the diseases to resolve the problem fundamentally. Actually, thousands years history of China strongly proves that TCM is the best solution for chronic and difficult health problems. Therefore, TCM is the most effective treatment system in the world.
With the opening of China, Chinese medicine is getting into the main stream of medical service now in the world to offer a better care to the people in the world.
The above factors, therefore, are the main reasons why more and more people in the world are turning their attention to the TCM, especially the real TCM from China. That is our duty to offer you professional diagnosis, advice, treatment and herbal medicines from the perspectives of Chinese TCM. We are very proud that our hospital has been serving clients from over 100 countries in the world quite satisfactorily relying upon our faithful service in these recent years. Our pursuit is that we will do our best to make the treatment result the best as to the chronic and difficult diseases.
The major feature of Chinese medicine is the "flexible Syndrome Identification and Treatment Determination." It means that different people may have different pathogenic reasons, symptoms and syndromes even though the disease name is the same, so treatment strategies and formulas are different. For example, the "common cold" is often separated into wind cold type and wind heat type. Another example, the "headache" can be caused by external factors, such as wind, cold, damp, dryness, fire, and/or internal factors, such as blood deficiency, blood stasis, liver fire uprushing, kidney essence deficiency, turbid phlegm obstruction, hyperactivity of liver yang, etc. So different treatment strategies will be used according to the different factors. Also, TCM considers related information, such as age, gender, work, living environment, emotional feelings, mood, stress, climate, habits, favored foods, etc. So we can see that Chinese medicine is deliberate and scientific, appropriately treating cold with heat, treating heat with cold, supplementing the deficiency, discharging the excess...
Huaihua is ranked as the "12th Most Harmonious City of China" in 2013 with 70% forest coverage, convenient traffic advantages, friendly people, peaceful society, etc.. This is the pure "traditional Chinese medicine" hospital in China, the most important political media of Chinese government Red Net (www.rednet.cn) said in August, 2012. Our Zhongfang Red Cross International Hospital For Chronic And Difficult Diseases in the west part of Hunan province, Mid-South China is a significant medical service entity, managed by a group of highly experienced practitioners of TCM in Mainland China.
Zhongfang is a newly built ecological city attached to Huaihua city. The team of our hospital was established in the year 2000 and we moved into the new site of Zhongfang county in 2010. Our hospital has about 160,000 square meters of land, and about 60 working staff including TCM professors, TCM doctors, acupuncturists, nurses, translators, cleaners, drivers and guards, etc. We are helping many Chinese patients here from our city and over China daily with great fame. In order to make the efficacious medical services of TCM available to more people in the West, our aim is to introduce and utilize effective methods of diagnosis and treatment to people in Western societies where complete TCM clinical service is not easily accessible. Zhongfang is a quiet city without industry pollution, also a national hygenic city, national peaceful city, and a park city in Hunan province. The quality of air and water is excellent and the local weather is very friendly.
From 2000 till now, nearly 4000 international friends, from more than 100 countries, have come to our facility. The "First Zhongfang International TCM Forum" held on August 28, 2012 made the decision that the local Chinese government of Zhongfang city would promote the project of making Zhongfang as the "World TCM City". Ms. Li Xia, Member of Standing Committee of County Party Committee and Minister of the Publicity Department of Zhongfang County said on the forum that we will work closely with the principal line of "basing on the ecological resources of Zhongfang County to build an International TCM City" and stick to the practice of "pure TCM science"… We will discuss the issues of Building the World TCM Exchange Base, Rehabilitation Base of Chronic and Difficult Diseases, and Clinical Practice Base of TCM, etc.
Currently, among our international patients who came here, we had many patients who have been offered very good treatment result, with the conditions of ALS (amyotrophic lateral sclerosis), MS (multiple sclerosis), lupus, sclerosis, rheumatism, infertility, habitual abortion, and middle or early stage cancers, etc.

Thanks for your trust and a speedy recovery to you, or your family member or your friend!

We treat:
Abnormal Menstruation, ALS (amyotrophic lateral sclerosis), Anal Fissure, Aplastic Anemia , Arterial Hypertension, Arteriosclerosis Obliterans of Limbs, Bell's Facial Paralysis, Bronchial Asthma
Cancers of early and middle stage, Cerebral Thrombosis, Cholecystitis, Chronic Lumbar Muscle Strain, Chronic Bronchitis, Chronic Gastritis, Chronic Nephritis, Chronic Pharyngitis, Chronic Rhinitis
Chronic Suppurative Otitis Media, Coronary Heart Disease, Diabetes Mellitus, DMD (Duchenne muscular dystrophy), Dysmenorrhea (painful menstruation), Eczema, Endometriosis, Epilepsy
Glaucoma, Habitual Abortion, Headache, Hemorrhoids, Hapatocirrhosis, Hyperlipemia, Hyperlipoproteinemia, Hyperplasia of Mammary Glands, Hyperplasia of Prostate
Impotence, Insomnia, infertility, Infection of Biliary Tract and Gall Stone, Leukopenia, Meniere's Disease, MS (multiple sclerosis), Nephrotic Syndrome, Neurodermatitis, Neurosis
Peptic Ulcer,Proctoptosis, Prolapse of Lumbar Intervertebral Disc, Prostatitis , Pruritus, Psoriasis, Raynaud's Disease, Rheumatic Arthritis, Rheumatic Fever
Sciatica,Scleroderma, Seminal Emission, Senile Cataract, Sterility, Sudden Deafness, Systemic Lupus Erythematosus (SlE), Thrombocytopenic purpuar, Thrombotic Phlebitis
Urinary Calculus, Urinary Infection, Urticaria, Viral Hepatitis, Vitiligo and more.