Huaihua Longyuan Medicine Export Company
Our city Huaihua is also known as the Treasure House Of Chinese Herbs In China!
Our company offers small, middle or big order for any people from any countries in the form of raw herb, herbal raw powder, powder in capsule, herbal product, health tea, herbal granule, herbal food, herbal supplement, herbal candy, herbal drink, etc.
Huaihua Longyuan Medicine Export Company is not only a managing company for Chinese herbs, but also a national licensed export company. We have a staff of 300 professionals, and distribute about 800 kinds of raw herbs. Our company has successfully passed the international standard assessment of quality control of medications, GSP. We are the biggest herbal company among the surrounding five provinces in mid-south China. We also have our own specialized farms to produce some commonly used raw herbs, such as honeysuckle, gastrodia, poria, magnolia bark, etc. Our former Chinese Premiere Mr. Zhu Rongji once visited our company and gave great appreciation to our green mountain herbal farm. Also, this important farm in south China has passed the international standard assessment, GIP. In the past few years, we have gained international clients from over 200 countries who trust and rely on our faithful service.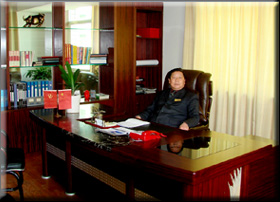 President Mr. Zhou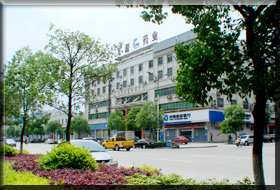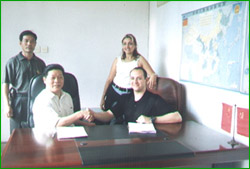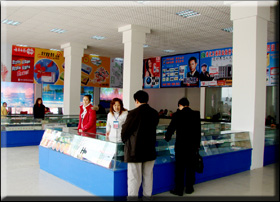 May 22, 2004, Dr. Recardo and Dr. Cythia from Mexico came to Huaihua to sign a wholesale contract with our managers Mr. Zhou Menglian and Mr. Peng Youai in our herbal company.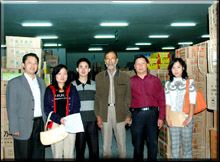 October 2006, Jaff from Pakistan make order in our company.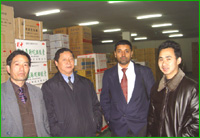 January 8, 2005, our herbal wholesaler from Cochin, India, Mr. Shamun flew to our herbal company to make wholesale order of prepared herbal products from us.
For small orders, we accept bank money orders, checks, or bank transfers. We also accept payment by credit card online in an absolutely secure way using Visa, MasterCard, American Express, etc. Foreign currencies accepted include U.S. dollar, Canadian dollar, Euro, English pound sterling, Australian dollar, Japanese yen, Singapore dollar, New Zealand dollar, Macao dollar and Hongkong dollar as well.
The reason we can successfully export our herbs into any country in the world is that, most herbs are legally registered products in almost every country. So please do not worry about its passing customs into your country. Your order would be released without problem.
With bulk orders, we accept payment in the form of Letter of Credit (L/C) or bank wire. If you are an international wholesaler, please let us know your bulk order and we will offer you first-rate quality products at the lowest price from China.
We are especially proud to be able to offer the very best health herbs and the very best service to our international clients, patients and wholesalers in recent years.

Best wishes for your health and prosperous business!
Big orders are dealt by Longyuan Herbal Company. Small orders are dealt by our hospital
Management Certificate Of Medicines Major Contents: Enterprise Name: Huaihua Longyuan Medicine CO., LTD. Governmental Administrative Office: Huaihua Administrative Bureau of Commerce Registration Funds: Two Million RMB (240 thousand USD) Business Scope: Allowed to manage Chinese herbs, herbal products, chemical injections, antibiotics, bio-medications, medical staff for diagnosis, health products, medical instruments. Can import and export any kind of goods and techniques that are not forbidden by the Chinese government. Registration Number: 4312002001215 Legal Representative of Company: Zhou Mengliang Expire Date: Dec. 31, 2023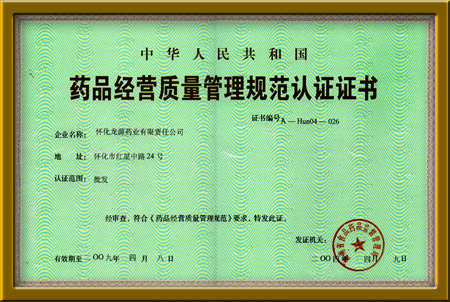 GSP Certificate: Assessment Certificate of Quality Control Standard of Medication, The People's Republic of China. Major Contents: Enterprise Name: Huaihua Longyuan Medicine CO., LTD. Scope for Assessment: Wholesale medications Governmental Issuer: Administrative Bureau of Foods and Medications of Hunan Province Expire Date: April 8, 2009 Certificate Number: A-Hun04-026 Document Number: 00006917 Issued Date: April 9, 2004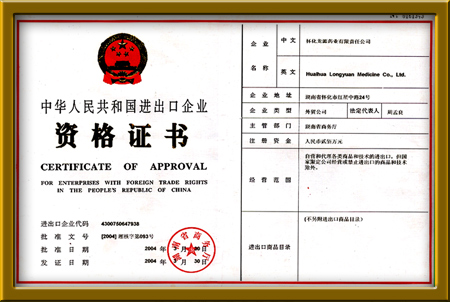 Certificate of Approval for Enterprises with Foreign Trade Rights in The People's Republic of China.
Contact Address:
Zhongfang Pure Chinese Medicine Hospital,

Dangui Road, Zhongfang County,
Huaihua city, Hunan province,
China. 418005
Tel: 86 745 2813385
email: wholesale@tcmtreatment.net