Hawthorn fruit Extract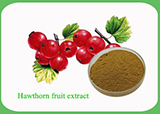 Product Introduction
Hawthorn fruit Extract, naked, and famous shanlihong, Rosaceae, hawthorn, deciduous trees, up to 6 meters high. Hawthorn fruit extract has the effect of strengthening heart, lowering blood pressure and lowering blood fat.
Details
Product Name:
Hawthorn fruit Extract
Latin name:
Crataegus pinnatifida Bge.
Main effective component:
Flavonds, Maslinic acid
Part of the plant used:
Crataegus pinnatifida Bge. fruit and leaf
Product specification:
1%-10% Maslinic Acid
Molecular formula:
C30H48O4
Effection
3. Maslinic acid can reduce the chance of spread of the AIDS virus in the body.
4. Anti-inflammatory, antibacterial.
Packing and shipping
Packing
: 1 kg / bag; 10kg/ case; 25 kg / barrel, also packing according to customer's requirement
P
reservation method
: dry, cool place, avoid light sealed storage
Advantage
1. Cost advantages: batch procurement of raw materials, advanced technology, good production management
2. Quality advantages: strict quality of raw materials, and improve the QC&QA, batch stability control
3. R & D strengths: depth and Hunan Institute of traditional Chinese medicine and Hunan University of Chinese Medicine R & D cooperation
4. Customer service advantages: there are a group of professional quality and experience of business personnel
5.For all details about the order arrangement, pls. reach us via email at wholesale@tcmtreatment.com/wholesale@tcmtreatment.net.
WRITE YOUR OWN REVIEW
How do you rate this product? *