Lotus Leaf Extract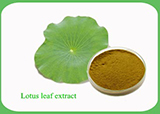 Product Introduction
Lotus leaf extract, also called nuciferine; with crushed dried lotus leaf as raw material, using cellulase pretreatment, hydrochloric acid extraction, ultrasonic assisted extraction, extracting solution, alkaline pH, water evaporation to the proportion of D=1.15 extract, cool, 10 times the amount of chloroform mixing, static, hierarchical, water to three extraction with chloroform, phase, recovery of chloroform, extract powder, crushing, mixing, packing have.
Details
Product Name:
Lotus Leaf Extract
Latin Name
:
Nelumbo nucifera Gaertn.
Part of the Plant Used:
Nelumnbo mucifern G Leaf
Product specifications
:
3%--5%Alkaloids
Molecular Formula:
C19H21O2
Effection
1. Clearing away summer heat,cooling blood to stop bleeding.
2. Bleeding disorder and postpartum bruise.
3. Lower serum triglycerides alcohol and cholesterol, Health care function of regulating blood lipid.
Packing and shipping
Packing
: 1 kg / bag; 10kg/ case; 25 kg / barrel, also packing according to customer's requirement
P
reservation method
: dry, cool place, avoid light sealed storage
Advantage
1. Cost advantages: batch procurement of raw materials, advanced technology, good production management
2. Quality advantages: strict quality of raw materials, and improve the QC&QA, batch stability control
3. R & D strengths: depth and Hunan Institute of traditional Chinese medicine and Hunan University of Chinese Medicine R & D cooperation
4. Customer service advantages: there are a group of professional quality and experience of business personnel
5.For all details about the order arrangement, pls. reach us via email at wholesale@tcmtreatment.com/wholesale@tcmtreatment.net.
WRITE YOUR OWN REVIEW
How do you rate this product? *