Sunset Abelmoschus Extract
Sunset Abelmoschus Extract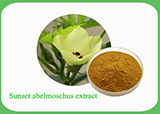 Product Introduction
The a.manihot extract often in the valley grass, Tanabe ditch or between shrubs, mainly in the south, southwest and Hebei, Shaanxi, Shandong, Zhejiang, Jiangxi, Fujian and other places.
Details
Item: Sunset Abelmoschus Extract
Latin name:
Abelmoschus manihot L.
Main effective component:
Flavone
Product specification:
10-50% Flavone
Effection
The extract of Sunset Abelmoschus is used for glomerular diseases such as nephrotic diseases such as nephritis, chronic nephritis, renal progression, nephrotic syndrome, and nephrotic syndrome caused by bacterial, viral or secondary infections Early uremia and other diseases.
Packing and shipping
Packing
: 1 kg / bag; 10kg/ case; 25 kg / barrel, also packing according to customer's requirement
P
reservation method
: dry, cool place, avoid light sealed storage
Advantage
1. Cost advantages: batch procurement of raw materials, advanced technology, good production management
2. Quality advantages: strict quality of raw materials, and improve the QC&QA, batch stability control
3. R & D strengths: depth and Hunan Institute of traditional Chinese medicine and Hunan University of Chinese Medicine R & D cooperation
4. Customer service advantages: there are a group of professional quality and experience of business personnel
5.For all details about the order arrangement, pls. reach us via email at wholesale@tcmtreatment.com/wholesale@tcmtreatment.net.
WRITE YOUR OWN REVIEW
How do you rate this product? *