Grape Seed Extract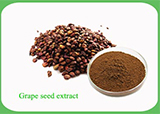 Product Introduction
Grape seed extract is a new kind of highly effective natural antioxidant substance which can not be synthesized in human body. It is the most powerful substance found in nature and has the strongest antioxidant and free radical scavenging properties.
Details
Product Name:
Grape Seed Extract
Latin Name: Vitis Vinifera
Part of the Plant Used:
Grape seed
Active Ingredient:
Resveratrol
Product specification:
Resveratrol 50%,98%
Molecular Formular:
C14H12O3
Effection
1. Anti-oxidation ,scavenging free radical ,preventing skin aging and UV radiation .
2. Protect the brain and nerve tissue from oxidation .
3. Anti-cancer and preventing cancer.
5. Relieving PMS problems ,and alleviating would,edema from injury trauma ,varicose veins.
Packing and shipping
Packing
: 1 kg / bag; 10kg/ case; 25 kg / barrel, also packing according to customer's requirement
P
reservation method
: dry, cool place, avoid light sealed storage
Advantage
1. Cost advantages: batch procurement of raw materials, advanced technology, good production management
2. Quality advantages: strict quality of raw materials, and improve the QC&QA, batch stability control
3. R & D strengths: depth and Hunan Institute of traditional Chinese medicine and Hunan University of Chinese Medicine R & D cooperation
4. Customer service advantages: there are a group of professional quality and experience of business personnel
5.For all details about the order arrangement, pls. reach us via email at wholesale@tcmtreatment.com/wholesale@tcmtreatment.net.
WRITE YOUR OWN REVIEW
How do you rate this product? *