Licorice Extract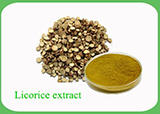 Product Introduction
Licorice extract is a medicinal ingredient extracted from licorice. Licorice extract usually contains: glycyrrhizin, glycyrrhizic acid, licorice, licorice flavonoids, the latter than sandalwood, prickly ash, quercetin and so on. Licorice Spleen Qi, detoxification, cough expectorant, relieving pain, reconcile the various drugs efficacy. For the treatment of the spleen and stomach weakness, fatigue, palpitations, shortness of breath, cough, phlegm, abdominal pain and other symptoms of limbs spasm.
Details
Latin name:
Glycyrrhiza uralensis Fisch.
Main effective component:
glycyrrhizic acid,glycyrrhetinic acid, liquiritin
Product specification:
5%-20% glycyrrhizic acid
Effection
1. Treat inflammation of the eye, cataract, conjunctivitis, and sties.
2. Rich in beta-carotene and flavanoids, compounds that help improve cognitive function.
3. Helps eliminate harmful toxins from the liver, and thereby protect it from any sort of damage.
4. Be used topically as an anti-acne agent and useful for irritation caused by other dry skin conditions.
5. Improves immune system.
Packing and shipping
Packing
: 1 kg / bag; 10kg/ case; 25 kg / barrel, also packing according to customer's requirement
P
reservation method
: dry, cool place, avoid light sealed storage
Advantage
1. Cost advantages: batch procurement of raw materials, advanced technology, good production management
2. Quality advantages: strict quality of raw materials, and improve the QC&QA, batch stability control
3. R & D strengths: depth and Hunan Institute of traditional Chinese medicine and Hunan University of Chinese Medicine R & D cooperation
4. Customer service advantages: there are a group of professional quality and experience of business personnel
5.For all details about the order arrangement, pls. reach us via email at wholesale@tcmtreatment.com/wholesale@tcmtreatment.net.
WRITE YOUR OWN REVIEW
How do you rate this product? *