Echinacea Purpurea Extract
Echinacea Purpurea Extract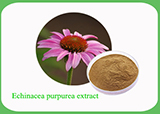 Product Introduction
Echinacea Purpurea extract. The main ingredient, chicory acid, is the most widely used medicinal plant. It is commonly used for colds, toothache, snake bites and other injuries. For years, the United States has used it as an alternative medicine to strengthen the immune system and to clear blood, especially in seasonal, cold, and cough prone seasons.
Details
Item
:
Echinacea Purpurea Extract
Latin Name
:
Echinacea Purpurea L.
Appearance
: Fine Brown powder
Active Ingredients
: Cichoric Acid, Polyphenols
Specification:
Polyphenol 1%-10%; Chicoric acid 1%-5%
Effection
1. Used to stimulate the immune system, enhancing immunity, preventing influenza;
2. Treat arthritis or skin diseases, promoting wound repair, relieving toothache and pain of scald;
3. With the function of anti-virus, anti-fungi, anti-tumor, anti-bacterial, anti-infections and anti-cancer.
4. Echinacea extract have antiviral effect.
Packing and shipping
Packing
: 1 kg / bag; 10kg/ case; 25 kg / barrel, also packing according to customer's requirement
P
reservation method
: dry, cool place, avoid light sealed storage
Advantage
1. Cost advantages: batch procurement of raw materials, advanced technology, good production management
2. Quality advantages: strict quality of raw materials, and improve the QC&QA, batch stability control
3. R & D strengths: depth and Hunan Institute of traditional Chinese medicine and Hunan University of Chinese Medicine R & D cooperation
4. Customer service advantages: there are a group of professional quality and experience of business personnel
5.For all details about the order arrangement, pls. reach us via email at wholesale@tcmtreatment.com/wholesale@tcmtreatment.net.
WRITE YOUR OWN REVIEW
How do you rate this product? *