Aloe Vera Extract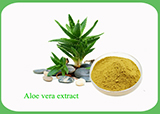 Product Introduction
Aloe vera extract is a colorless, transparent, brown, slightly sticky liquid, dried and yellow fine powder. Having no odor or a slight odor. It is usually used as a mask, which is well liked by women and has strong water replenishing property.
Details
Appearance: Fine yellow powder
Active Ingredients: Aloin, Aloin A
Specification:
Aloin:10%-98%, Aloin A:10%-98%
Effection
1. Promoting tissue regeneration.
2. Bactericidal,antidotal,anti-inflammation.
3. Keep moistening and beauty ,anti-aging.
4. Strengthen heart and invigorate circulation of blood.
Packing and shipping
Packing
: 1 kg / bag; 10kg/ case; 25 kg / barrel, also packing according to customer's requirement
P
reservation method
: dry, cool place, avoid light sealed storage
Advantage
1. Cost advantages: batch procurement of raw materials, advanced technology, good production management
2. Quality advantages: strict quality of raw materials, and improve the QC&QA, batch stability control
3. R & D strengths: depth and Hunan Institute of traditional Chinese medicine and Hunan University of Chinese Medicine R & D cooperation
4. Customer service advantages: there are a group of professional quality and experience of business personnel
5.For all details about the order arrangement, pls. reach us via email at wholesale@tcmtreatment.com/wholesale@tcmtreatment.net.
WRITE YOUR OWN REVIEW
How do you rate this product? *